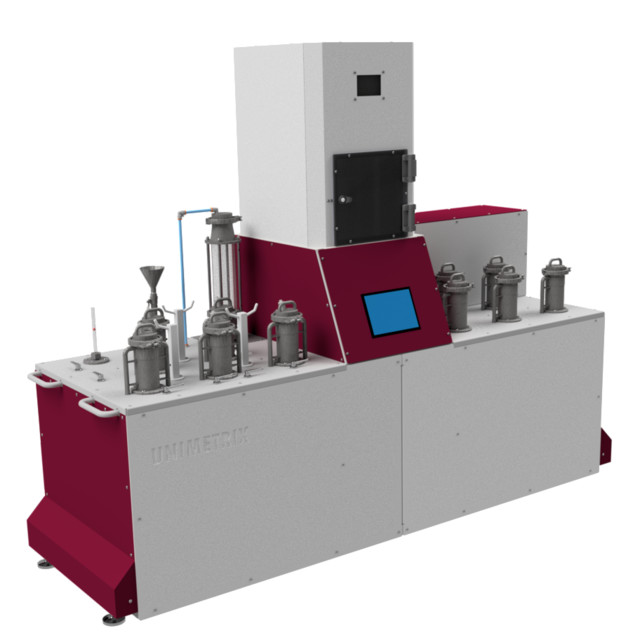 UNIMETRIX GTM
UNIMETRIX GTM is a multi-stand for conducting complex tests of the permeability characteristics of plastic products and determining the degassing degree of foamed materials.
Technical specification
GTM-1
Material type

PE foam
XPE foam
Bubble wrap
Folia pęcherzykowa
Other plastics

Number of workstations
10
Sample diameter
78 mm
Sample thickness - permeability test
0,01 - 5,00 mm
Sample thicnkess - degassing test
10,00 - 50,00 mm
achine dimensions (L/W/H)
2600 / 900 / 2000 mm
Machine weight
800 kg
Operating pressure
Tests according to standards

PN-EN ISO 15106-1
ASTM E398
PN-EN ISO 2556
ASTM D1434
Types of tests:
1) Water steam permeability in accordance with PN-EN ISO 15106-1 and ASTM E398
Testing of plastic foils and sheets. This test allows to determine the water steam transmission rate. Vapour-permeability is essential for construction products (moisture removal) and packaging (protection against moisture penetration).
2) Gas permeability according to PN-EN ISO 2556 and ASTM D1434
Testing of plastic foils and sheets. This test allows to determine the permeability of gas (oxygen, nitrogen) or air and consequently the material behaviour when using different production materials and process additives. The permeability test is important to determine the suitability of foil and foam products for use in the food industry.
3) Level of degassing of foamed plastics according to UNISTAR's own method.
Cell gas content in the foaming material (max. apparent density of the sample 60 kg/m3) tested by the physical pressing of the content of pores into the reservoir and measuring the concentration of the given foaming gas. The basic version of the machine is equipped with a sensor to detect isobutane. There is a possibility to place a dedicated sensor to detect other foaming gases. During the cyclic testing of the samples, the degree of degassing can be determined, i.e. the amount of foaming agent in the cells can be reduced as a function of time.